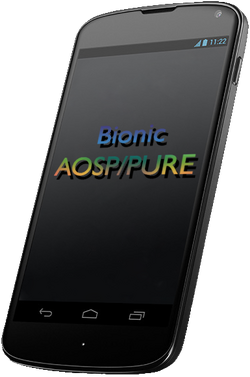 This ROM includes the Bionic commits from Primerunner. This ROM is as close as AOSP as possible. This ROM is meant to be a fast ROM. Hope you guys like it.
4.2.2
GCC 4.9
Enhanced Power Menu
Clear All Recents
Expanded Desktop
Dark Contacts & MMS
Bionic Commits
Highly Optimized
MMuzzy for helping me to get it built correctly.
Simms22 for testing it.
freerunner for his sources.
rascarlo for his sources.
sparksco for his sources.
Google for ANDROID!!!
...and everyone else that loved my bionicdfuc kkkrasbean builds that encouraged me to do this!
Ad blocker interference detected!
Wikia is a free-to-use site that makes money from advertising. We have a modified experience for viewers using ad blockers

Wikia is not accessible if you've made further modifications. Remove the custom ad blocker rule(s) and the page will load as expected.