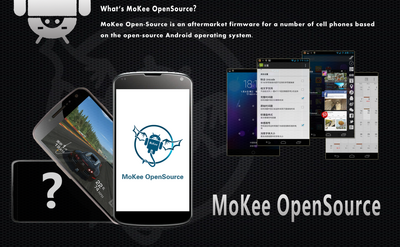 MoKee OpenSource is based on the Google AOSP and CyanogenMod. We update our source code frequently to keep up with the latest development, without forgetting to merge in special features of our own at the same time.
Since this project is open source, anybody interested can participate in its development. Newcomers are always welcome!
4.2.2
Odexed // Deodexed
PA PIE
PA Halo
Floating Window
Expanded Desktop
ListView Animations
Navbar Height
Transparency Settings
Custom Carrier Label
Custom Boot Animation
Recents SideBar
Smart Dialing
IP Dialing
CRT On/Off
Permissions Manager
Magic Fun Desktop
MoKee NotePad
Enchanced Stock Kernel
Optimized Code // Improved Efficiency
General Developers: xilence, lovemrdeng, wszfer, chenleicpp, Ryuinferno, martincz
Maintainers: rmcc, martincz
Phone Location: zxmlysxl
Translators: xilence, martincz
Special Thanks: CyanogenMod, Google, Koush, ParanoidAndroid
Ad blocker interference detected!
Wikia is a free-to-use site that makes money from advertising. We have a modified experience for viewers using ad blockers

Wikia is not accessible if you've made further modifications. Remove the custom ad blocker rule(s) and the page will load as expected.